BOB TURNER


AUDIO-VIDEO
youtube.com/user/TheMidniteComposer
BIO
Bob Turner was in High School when he began to explore life as a working bass violin player in Vancouver's jazz haunts and nightspots. As electric bassist with Black Snake in the late-60s, he performed at festivals and concerts throughout the Pacific Northwest often sharing the bill with such iconic bands as Moody Blues, Paul Butterfield, Jethro Tull, MC5 and Velvet Underground at a range of major rock locales including Seattle's infamous Eagles Auditorium and Vancouver's Retinal Circus.
Turner went on to form his own innovative jazz group, continued to work with CBC television bands, and performed locally and in Los Angeles with blues-artist Almeta Speaks. In the early 1970s, when he returned from a two-year involvement with the contemporary arts scene in Toronto and Montréal, Turner worked on a series of improvised theatre performances and developed his Midnight Thinker persona for a talk-radio programme. He composed experimental music for contemporary dance and film; performed a leading role in film-director Byron Black 's "The Holy Assassin": became composer and bassist with West Coast New Music; was central to a myriad of experimental events held at such venues as the Vancouver Art Gallery, Western Front, Indigenous Potential Gallery, Helen Pitt Gallery, and the Arts Club; and took his original performance-art productions to the incarcerated in BC Correctional Centres.
While studying psychology and theatre at University, Turner worked as an early-childhood educator which lead to conceiving and staging Vancouver Playhouse Theatre productions for young people; releasing his "Day Care Blues" album; and developing his "Child in the Box" theory which was subsequently published. In the 1980s, he established Today's Theatre Gallery in the Gastown area of Vancouver and was contracted to perform for four months at Expo '86 and at the Canadian Pavilion at Expo '88 in Australia. Determined to give voice to the severely physically-disabled, Turner directed, composed music for, and made audio and video documentation for a group of disabled musicians and singers, who achieved a moment of fame linked to their public performances of original material. The resulting publicity for the success of this endeavour caught the eye of Simon Fraser University which appointed him Artist-in-Residence at their School of Electronic Engineering from 1989-1991. Turner participated in the design and development of a MIDI-modem-MIDI device that enabled the disabled to collaborate with musicians in any location in real time via a telephone link - this was a precursor to what became the Internet. He also organized, hosted and documented coffee-house events for musicians in the mental-health system. In 1995 Turner and his IT colleague launched their innovative Internet filtering software in response to increasing concerns regarding censorship and individual choice.
He subsequently released a further four albums of new compositions and curated a gallery exhibition of components drawn from his 1998 multimedia work entitled "The Convergence Project ". Image-and-sound video collaborations with visual artists were initiated in the late 1990s. One such project was presented at the Interurban Gallery in 2003 and another with Cuban-Canadian artist Tonel was presented at the Anthropology Museum at San Francisco State University. In 2014 Turner composed three soundscapes in collaboration with Tonel whose installation was launched at the 8th Berlin Biennale For Contemporary Art and remounted during 2015-2016 for exhibitions curated in London, Havana and Madrid. A selection of Turner's audio-visual work and his experimental 3-D fractal animations can be viewed on his YouTube channel.


THE CONVERGENCE PROJECT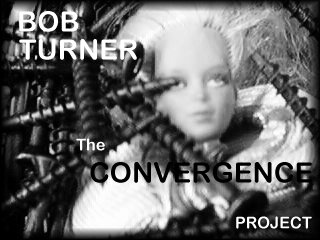 THE CONVERGENCE PROJECT is a multi-media body of work linking concepts of construction, deconstruction, and reconstruction. Turner constructed a series of miniature table-top vignettes from assorted found objects and memorabilia placed amongst deconstructed computer components, wiring, and electronic gadgets details of which were produced as a series of digital images. A range of paraphernalia and tools representing play, work, and war were plucked from the then-deconstructed theatre-like sets and bolted to large planks of wood and spray-painted. They became allegorical landscapes gone slightly awry in which human-like references were trapped in a dark sense of the absurd. They became vertical stages on which the tragic cavorted with the playful and where sarcastic wit took a roller coaster ride with poetic possibility. A convergence of exposed contradictions and a convergence of that which is with a sense of foreboding are at once compelling and somewhat disturbing. An installation of the assemblages together with studies in a smaller format and the digital photographs comprised an exhibition that opened in Vancouver in September 1998.





turner@turnercom.com